The third and final box in my three month birthday Bokksu gift, November 2021's theme was Prefecture Passion. The snacks in this box were from the widest range of locations so far, showing off lots of different regions in Japan. This box was also very sweet leaning in its snack selection, and still felt like it continued the autumnal theme of the previous box, Kansai Autumn, with apple, caramel and pie treats.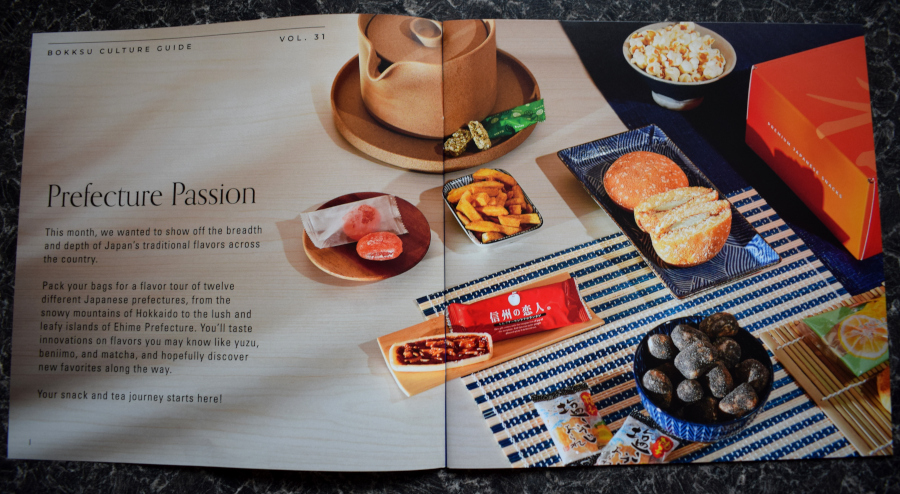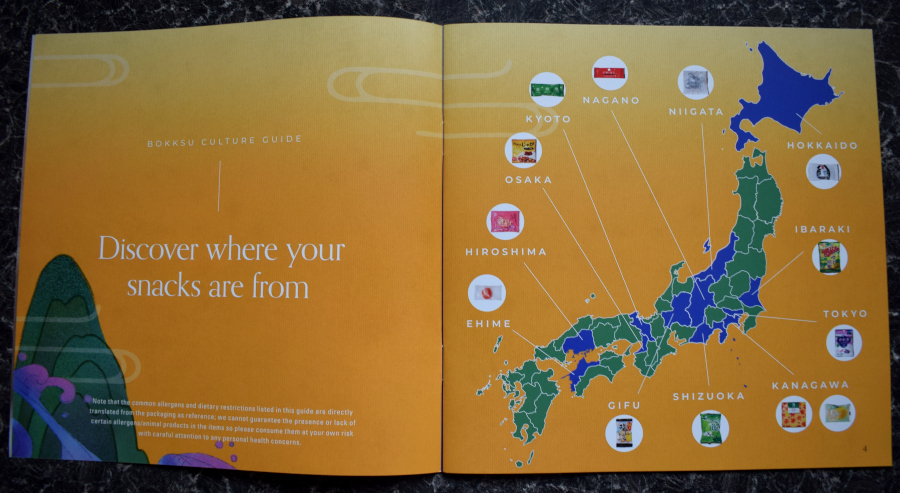 In November's box, there were 13 different types of snacks – and including multiples, 22 items in total. There were three main savoury snacks; the Mike Popcorn: Yuzu Pepper, Karitto Crunchy Jaga Curry and the Yuzu Salt Koji Arare Rice Cracker (x3), for five savoury snacks total. That leaves 16 snacks in the sweet category, and one drink.
The Snacks!
Kisarazu blueberry Gummy – a single 40 gram resealable pack of soft gummies with a thick liquid centre. The gummies were bouncy and a little mochi like in texture, not super firm like a fruit pastille or gem. They were nice and sweet, with a pretty strong blueberry flavour. I got 10 in total in my pack. The map says these are from Tokyo.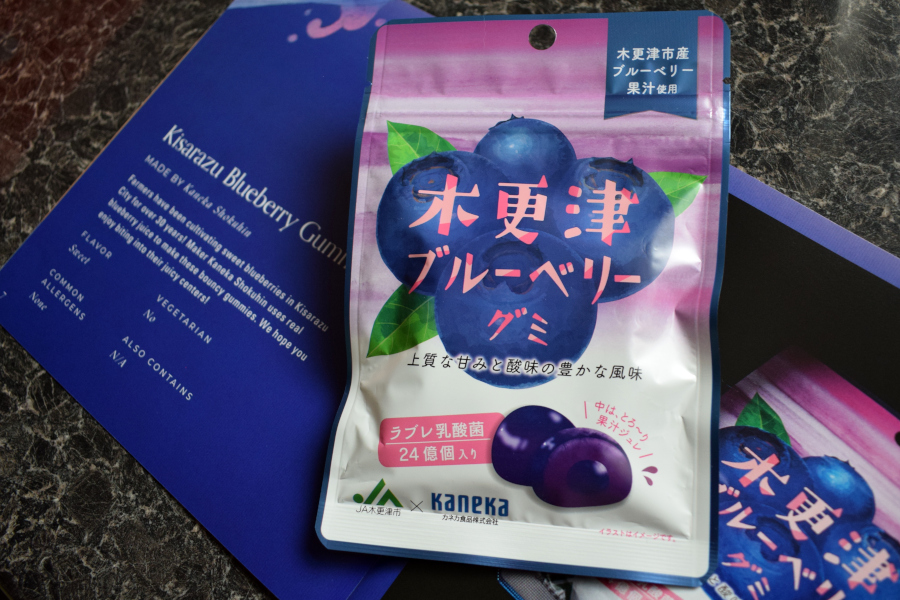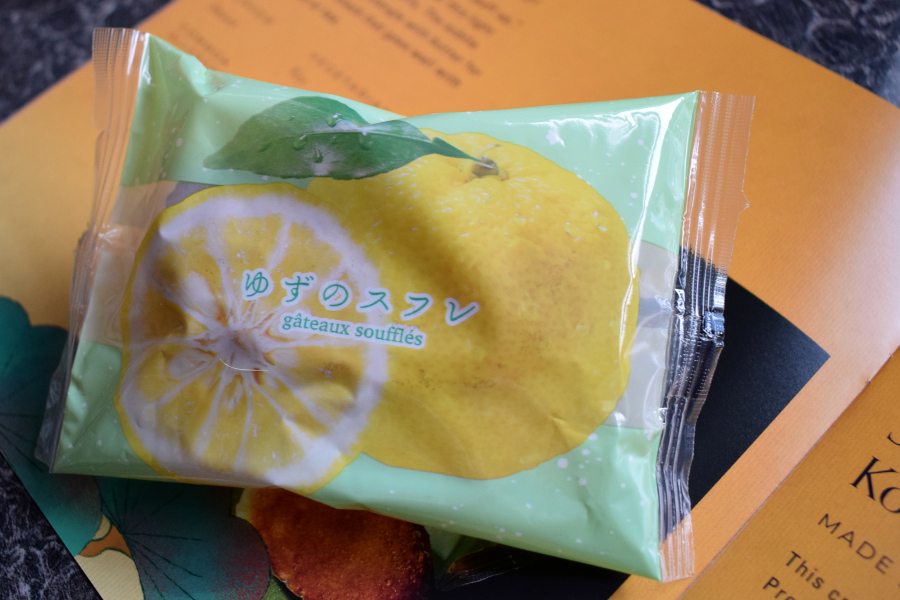 Yuzu Soufflé – a single wrapped cake slice with no given weight, but similar in size to previous cakes, just a few bites. Opening the little packet, the yuzu smell is lovely and intense. The cake is super light and springy, with a really enjoyable citrus flavour. There were tiny hard chunks of peel which make it more texturally interesting. Very enjoyable, and works really well as a quite petite snack, a much bigger slice would probably be less enjoyable since it's so simple. Very classy.
Shinshu No Koibito x3 – a very unusual treat, presented in simple bright red wrapping – it was a boat shaped wafer biscuit filled with dried slivers of apple and a soft-ish caramel. The caramel apple flavour is delicious, you can really taste the apple. The texture is lovely too, both the wafer and filling are crispy and crunchy – really adding to the apple like experience. I'd love a whole bunch of these.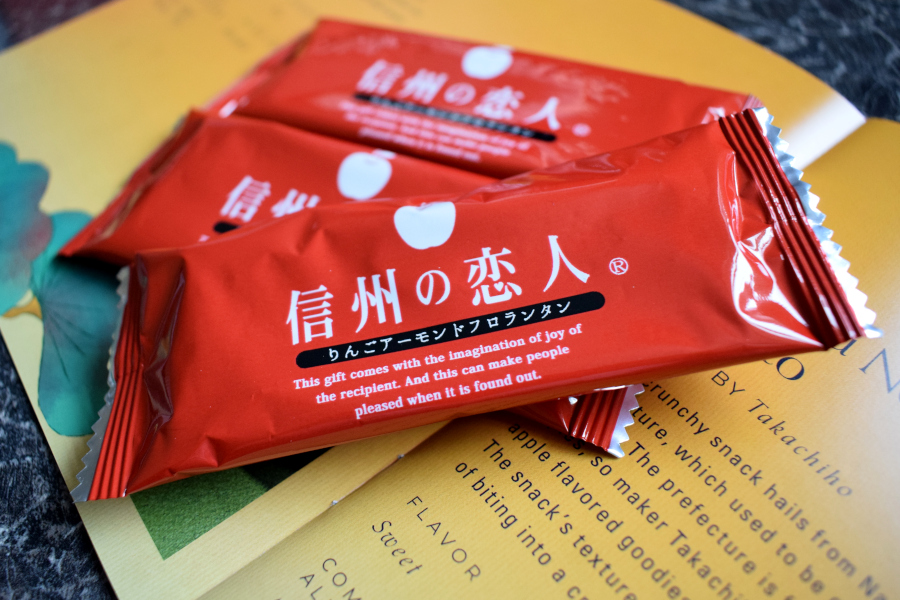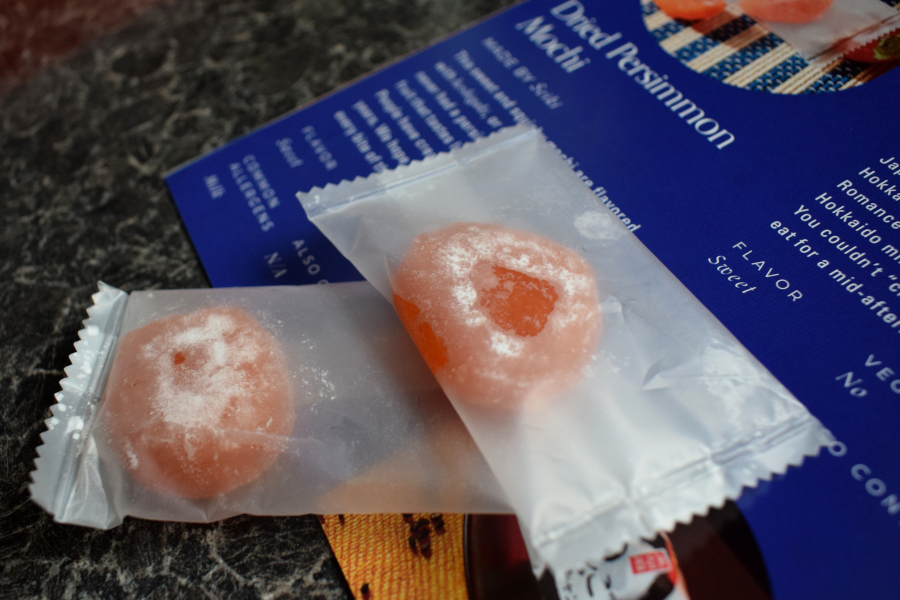 Dried Persimmon Mochi x2 – soft squishy mochi with no filling, bright orange in colour and a lovely persimmon flavour. You can buy persimmon here in the UK, and they have a lovely mild sweet flavour – the leaflet describes it as like honey and cinnamon. Real persimmons are sweet and very juicy if you get nice, ripe ones – honey isn't a bad comparison, but they also remind me of pairs and melons. The mochi themselves were lovely and mildly sweet, with that familiar mochi texture.
Black sesame soft candy x3 – a small soft sweet flavoured with milk and sesame. Opening the packet, you get a strong pleasant sesame flavour and a small chewy sweet ball that is grey and speckled – I assume with ground sesame. It was nice and creamy alongside the prominent sesame flavour. I wouldn't describe it as chewy like a toffee, it's more like a piece of fudge. Tasty and unusual.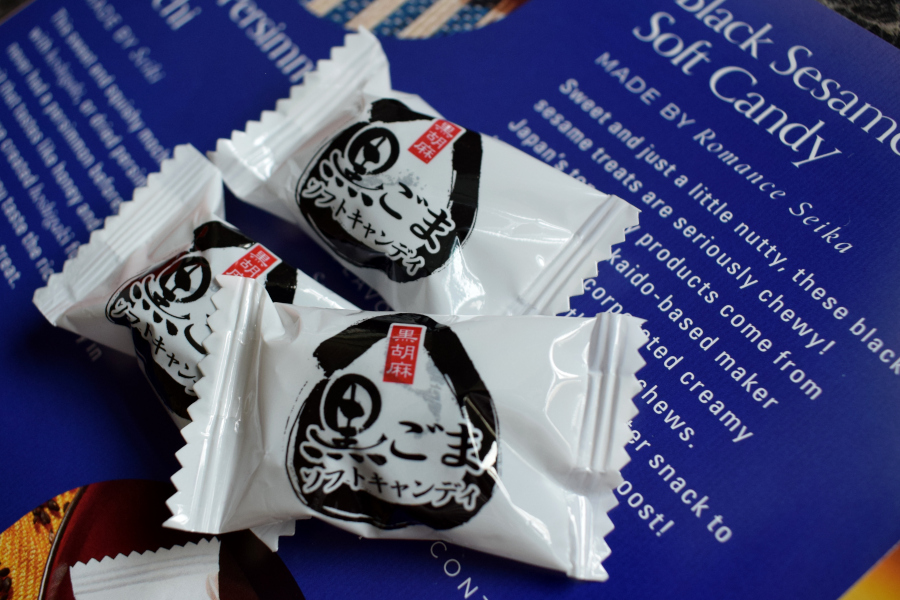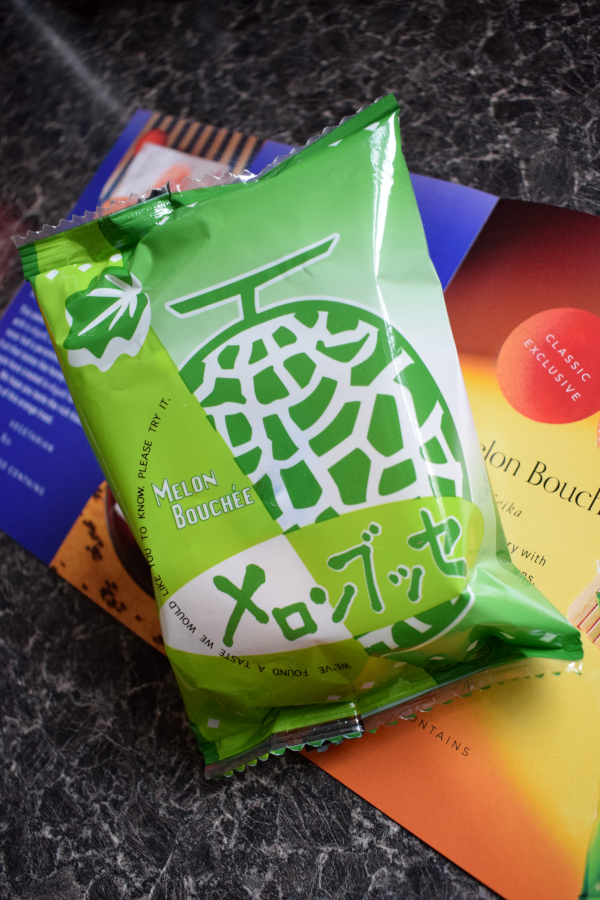 Muskmelon Bouchée – a large split cake bun with a strong cantaloupe melon cream filling. The sponge was very fine textured, soft and bouncy. The leaflet described this as 'bite sized' but honestly it's the biggest cake piece in the three Bokksu boxes I've had. Very enjoyable, tasty and moist.
Funwari Meijin Mochi Puffs: Gomadare Mochi – another repeat, a Bokksu favourite with a new flavour. Mochi puffs are light, dehydrated mochi that disintegrate and dissolve as soon as you start to eat them. This time they were a lovely mild sesame flavour, pleasant and just a little sweet. I think I actually liked these more than the kinako because while those ones were sweeter I thought the flavour powder was a little too thick/strong. This time I feel like it was just right. The pack had no weight but there were six small puffs.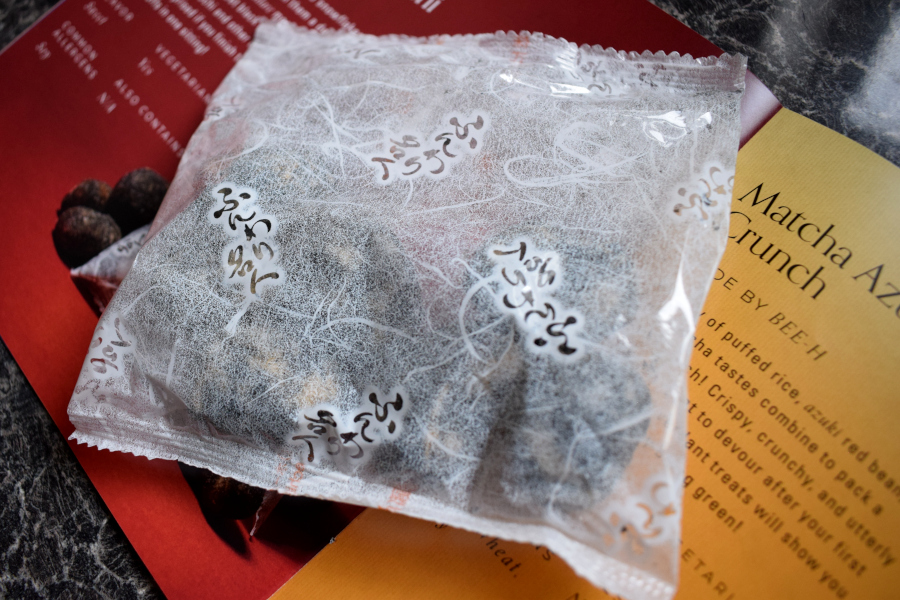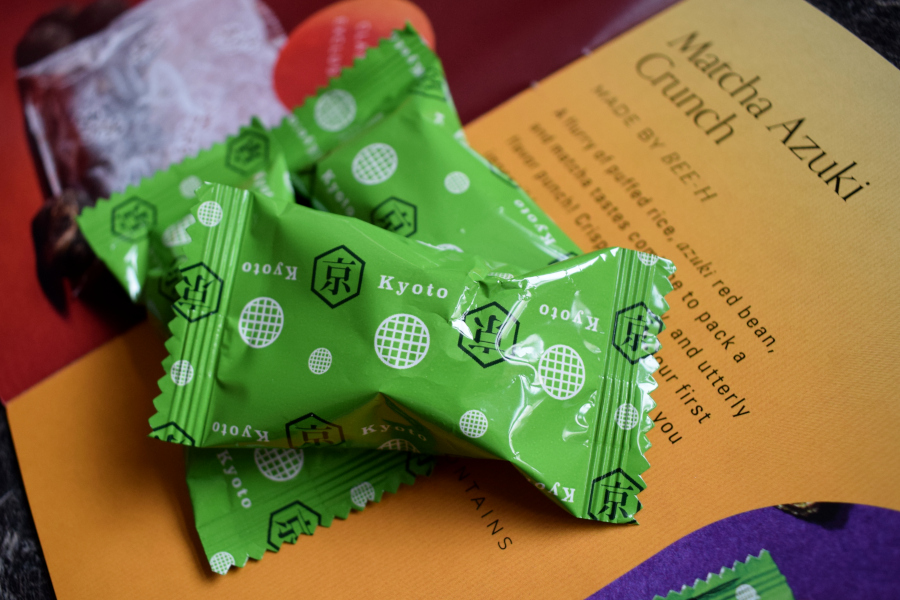 Matcha Azuki Crunch x3 – a small trio of snacks, with no given weight. Each one is a crunchy slice of bright green puffed rice and adzuki bean that mostly tastes like a matcha chocolate (white chocolate, most likely) mix is holding it together. It's sweet and nice, I didn't get a very strong matcha or adzuki flavour, but there was very good crunch texture.
Beniimo Purple Yam Pie – a single wrapped mini round pie with no weight. It's a small pie, about the size of a cookie. The pastry was soft and flaky, you could see the layers in the cross section when you bit through. The filling was moist and sweet with a mild sweet potato flavour. In the UK I don't think we sell specifically yams – I think sweet potatoes are the closest thing. The filling was a lovely bright violet, and the packaging was cute. A super fun and unusual item.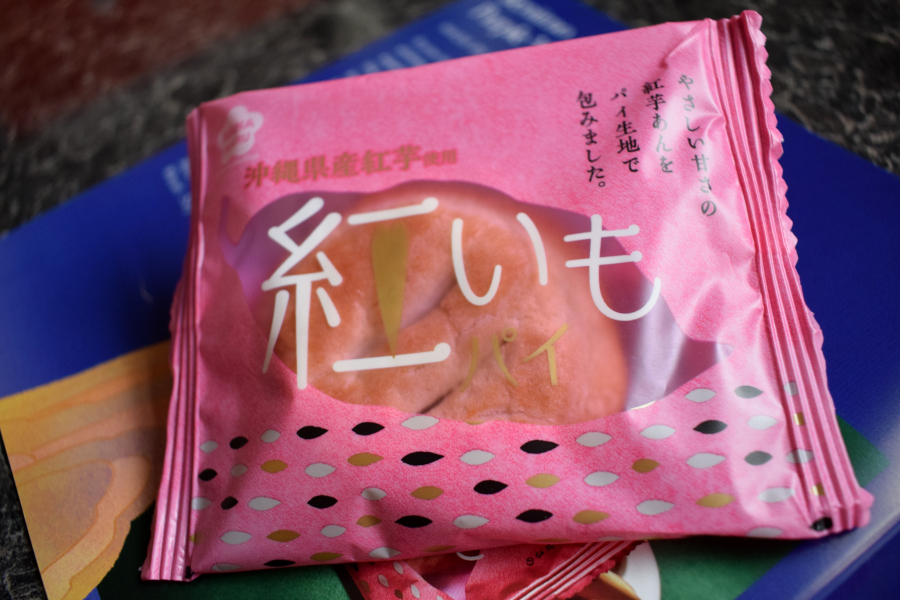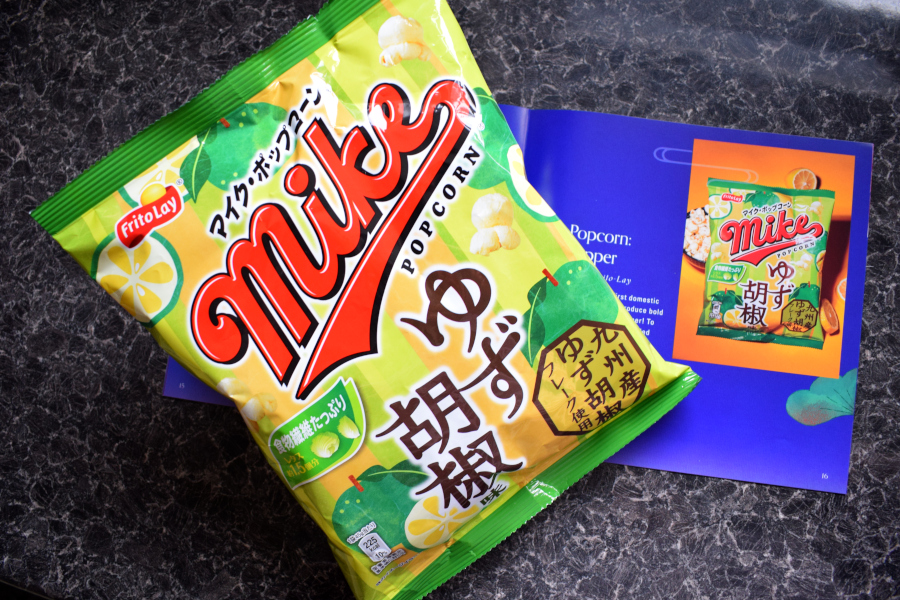 Mike Popcorn: Yuzu Pepper – an impressively large 45 gram bag of yuzu pepper popcorn. It was a generous pack size even in the UK. The flavour was delicious – spicy and punchy, lingering on your tongue while also having that lovely floral citrus flavour of yuzu. A real novelty flavour of popcorn that I think would sell well anywhere, I'd eat these regularly. Very hard to resist eating the whole pack in one go – myself and my other half finished it off between us pretty quickly.
Karitto Crunchy Jaga Curry – a cute little ten gram pack of chip shaped rice crackers. These were again that familiar Japanese/chip shop curry flavour – very sweet and aromatically spicy. A nice little snack, I'd love to get more of these.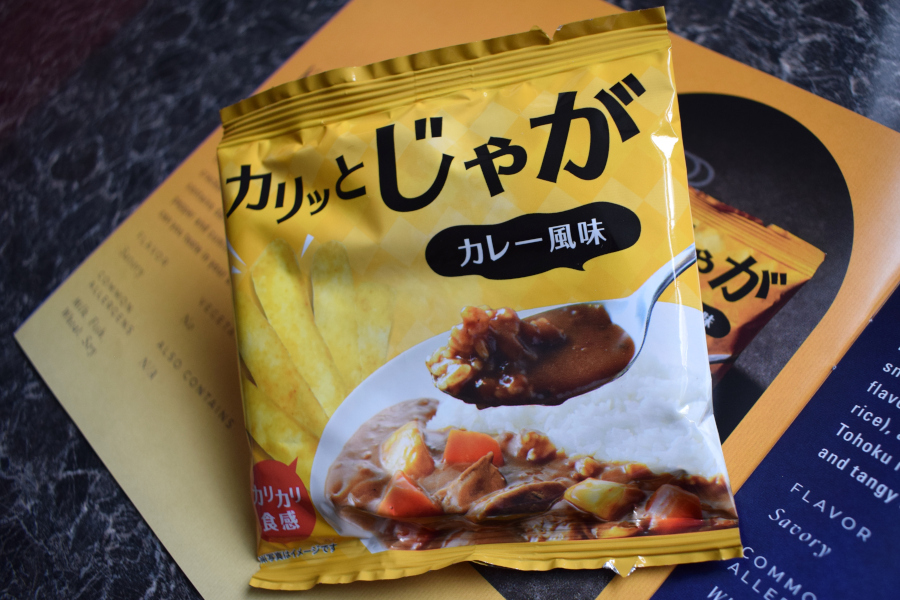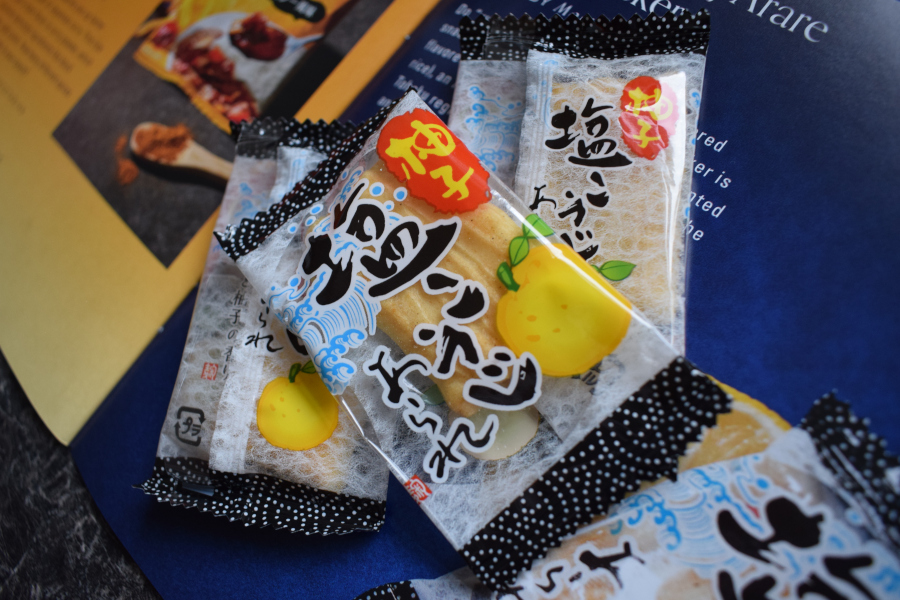 Yuzu Salt Koji Arare Rice Cracker x3 – three individually wrapped small puffed rice crackers, with no printed weight. They smelt quite strong, citrus and floral and savoury all at once. They had a lovely, airy puffed crunch and a very strong yuzu and briny salt flavour. They almost taste a little seafood like, which I assume is the fermented rice/Koji flavour. They were very interesting and unusual, the packaging was fun and it was great to have something with such a strong flavour.
Uji Sencha green tea – a single wrapped pyramid style green tea bag with a total weight of 2 grams on the packet. A mild and almost savoury green tea. It's delicious and simple and something I could drink everyday. Like most green teas you're directed to brew in a fairly small amount of water – 180cc – for two to three minutes and enjoy without milk. I did add one sweetener to mine.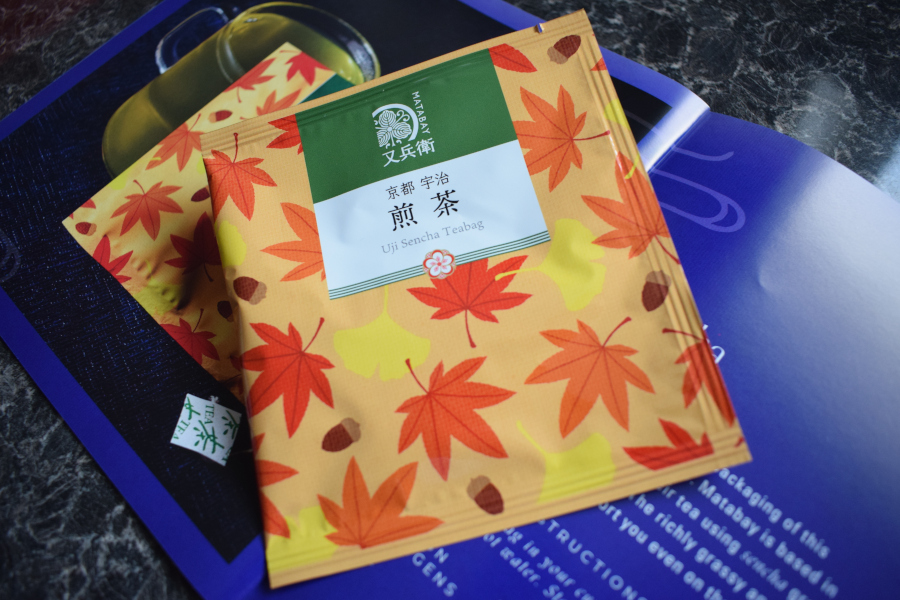 Final Thoughts
As mentioned in the opening, I am leaving Bokksu at this three month gift stage – it is lovely, and exciting, and every box has items that I've never had or even heard of before. I feel like this box might have been my favourite and it certainly had some of my favourite items in it – specifically the very flavourful Yuzu Pepper Popcorn, and the delightful Shinshu No Koibito. Winter and Christmas are pretty expensive times of year though, and I think after having it as a gift, right now a £30 ish a month subscription box might be a bit much just to have because. I hope to pick it up again in 2022 – and might even ask for it as a Valentines gift, and see what the service is like in Spring. I'm sure the Winter month boxes are lovely however – the next box teaser says the December box will be all about Hokkaido. Until next time!