My first 'regular' Bokksu was the October 2021 Kansai Autumn box, a lovely selection of autumnal snacks from what Wikipedia calls the "cultural center and the historical heart of Japan." Essentially a lot of the big cities and large population centres are within this region. Specifically, I had many snacks from Osaka, Kyoto, and Nara as well as one snack each from Kanagawa and Ikaraki, the latter two being not really in the Kansai region.
You can check out the very first Bokksu, the special 'Seasons of Japan' edition that I've also written about last month.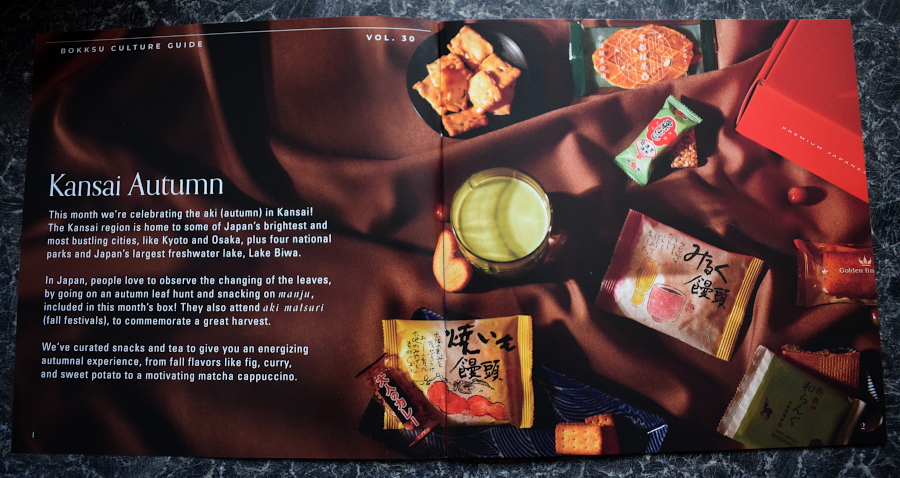 This box had a lot more sweet snacks overall, though they are all still relatively understated for sweets, many of them combining well with tea or coffee. Just like last time, everything in the box was delicious, and a fun experience.

The Snacks!
Handmade Fig Candy – Another fancy handmade hard sugar candy from Daimonji Ame Honpo, this time fig flavoured. The sweets were a very pretty mix of reds and greens and with the more vivid colours this time I feel like you could appreciate the lovely glass bead look. Fig feels like a pretty unusual flavour that you don't see often, they were sweet and very enjoyable. Like last time it's was a single resealable 30 gram bag containing seven hard sweets. The map shows these are from Kyoto.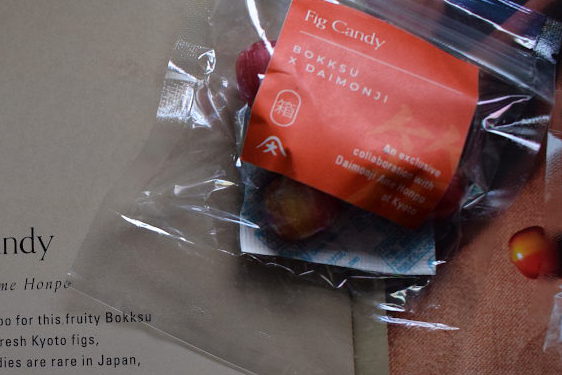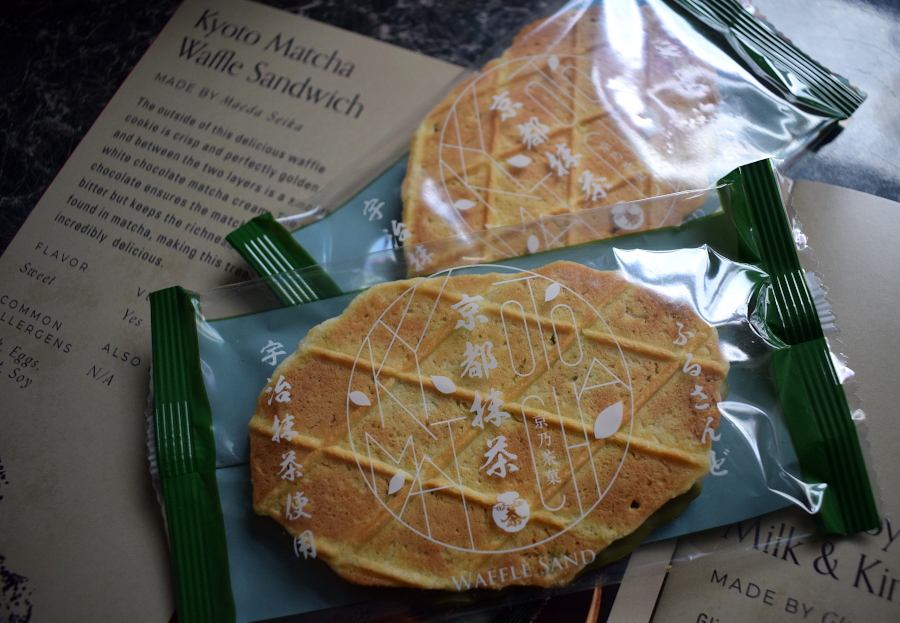 Kyoto Matcha Waffle Sandwich – Next were two large (no weight on packet) individually wrapped sandwich cookies. The cookie part was thin, crisp and waffle/wafer like – like they'd been fried on a griddle or thin stroopwaffle like waffle pan. The matcha white chocolate filling was smooth and mildly sweet. Very tasty and a great sized treat to have with a coffee or tea. The map shows these are from Nara.
Bisco Soy Biscuits: Milk & Kinako – Three small packets with no printed weight, and each small pack contains two extra small cream sandwich biscuits. The whole biscuit had a mild kinako – roasted soy bean – flavour that is actually quite comforting and pleasant. The creamy filling didn't have a very strong flavour. The biscuit had a nice crunchy dry texture like a rich tea biscuit. They were very mildy sweet and simple, and do admittedly feel like they're more for kids than adults, but were still nice to try. The map shows these are from Osaka.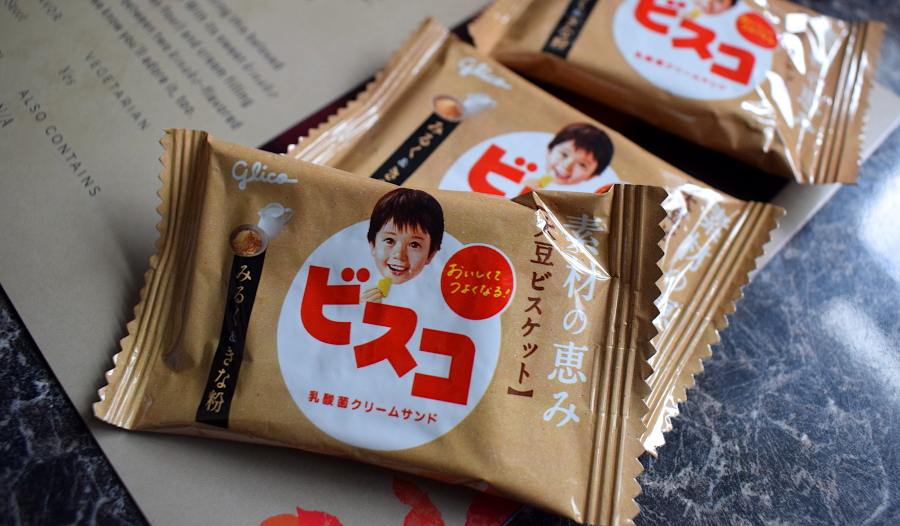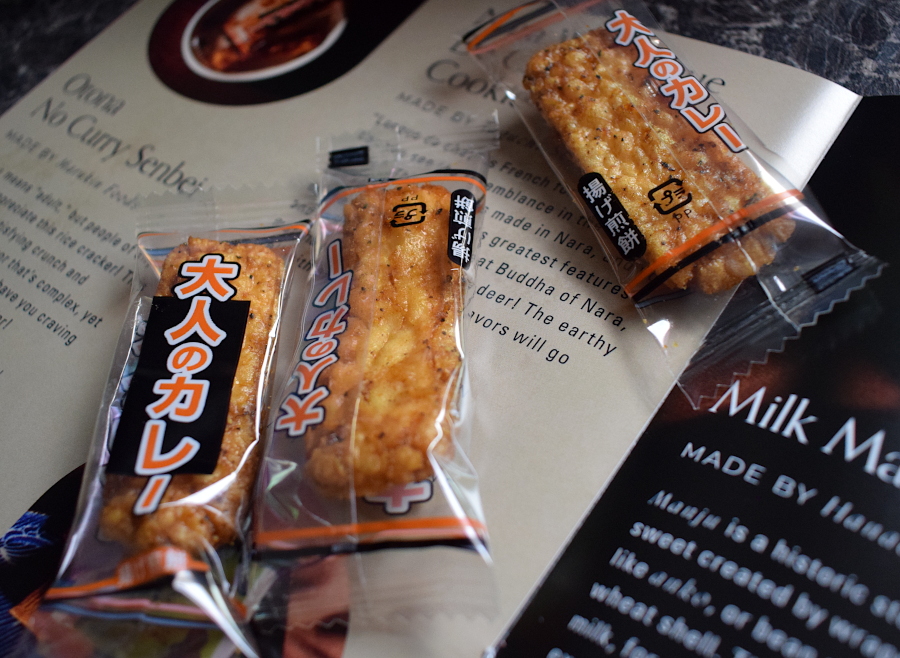 Otona No Curry Senbei – The first savoury snack of the box, three small individually wrapped rice crackers. There's no weight but they were pretty small. These were nice and super crunchy, with a lovely rich and spicy curry flavour. I think to many in the UK Japanese curry reminds them of traditional chip shop curry, and for good reason. They were really lovely, and I would have liked ten more. I preferred these over the small Bicso Soy Biscuits, but not as much as the Mini Awa Okoshi rice crackers mentioned later in this review, these were all so similar in size it seemed reasonable to compare them. The map shows these are from Osaka.
Nara Wa Langue De Chat Matcha Cookie – A different brand of cat's tongue this time around, though once again there were two individually wrapped cookies. The cookie parts were very crisp and crunchy sugar snap style, with a buttery flavour. Unlike the waffle sandwich cookie, the langue de chat filling was a much stronger 'in your face' matcha – it feels like a pure matcha paste rather than the previous matcha flavoured white chocolate, and has a slight bitter tea aftertaste. Very enjoyable and mature, and would indeed go well with tea. The maps shows these are from Nara.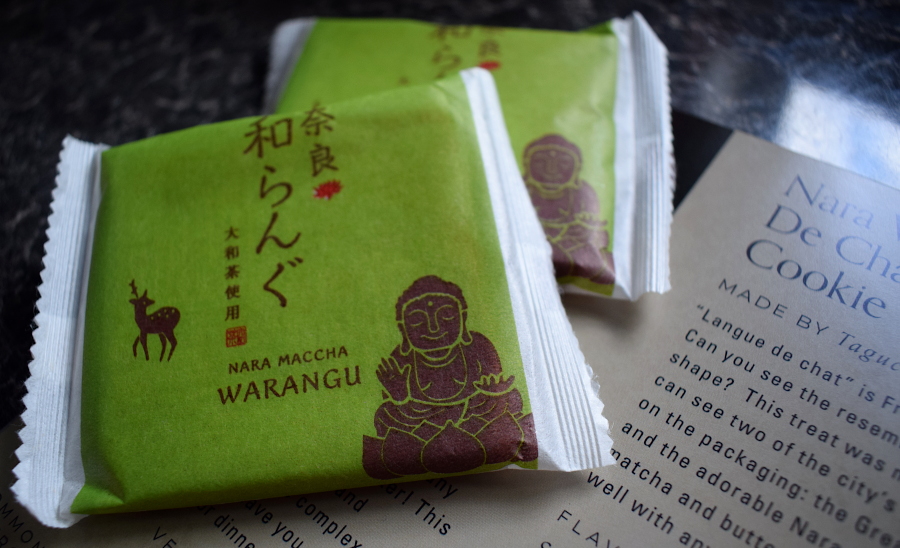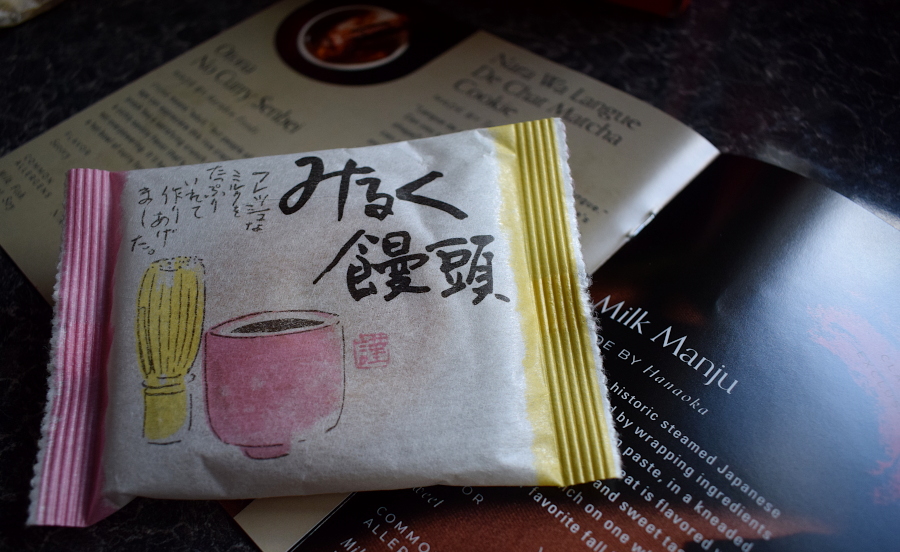 Milk Manju – This Bokksu contained two Manju – a small pastry with a filling that reminds me of the anpan from my previous box. The first was a creamy milk flavoured 100 gram individually wrapped Milk Manju. It was lovely, creamy sweet and comforting. The whole thing is soft and moist with the creamy bean paste filling. I really liked these and the packaging was cute. The map shows this was from Osaka.
Yaki-imo Manju – The second 100 gram individually wrapped Manju is a more unusual flavour – at least in the UK, of Yaki-imo or roasted sweet potato. I'm not sure I could describe the roasted sweet potato flavour very distinctly, the whole thing was sweet, and creamy and autumnal. Very nice. The map shows this second manju was also from Osaka.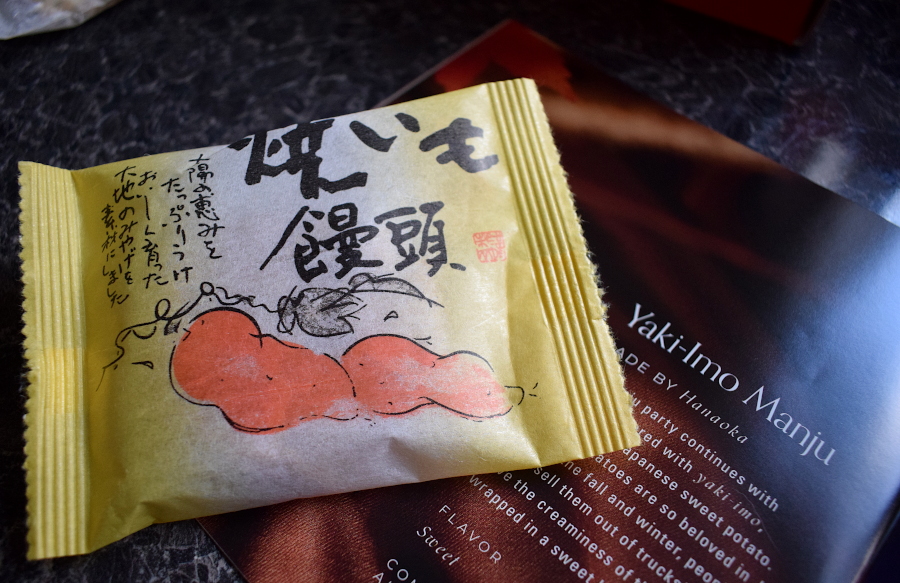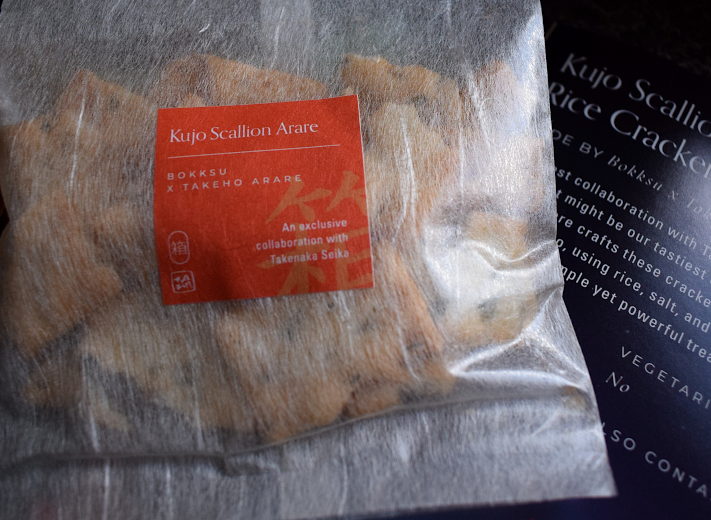 Kujo Scallion Arare Rice Crackers – The second savory snack in this Bokksu was a single 20 gram packet of simple seasoned scallion – or spring onion to those of us in the UK – flavoured rice crackers. The appeal of these crackers is how simple they are; savory, salty, nice and crunchy and with that lovely tang of spring onion flavour. The map shows these are from Kyoto.

Setouchi Heart-Shaped Lemon Mini Pies – The largest item in this Bokksu, a pack of 8 individually wrapped mini lemon pastry's. They were very light and crisp, made up of many, many layers of buttery flakey pastry like a cinnamon scroll pastry. The leaflet describes the Setouchi lemons as sweeter than regular lemons, and the flavour was a very delicious lemon curd like flavour rather than sharp tart lemon. Very enjoyable and cute! The map shows these are from Osaka.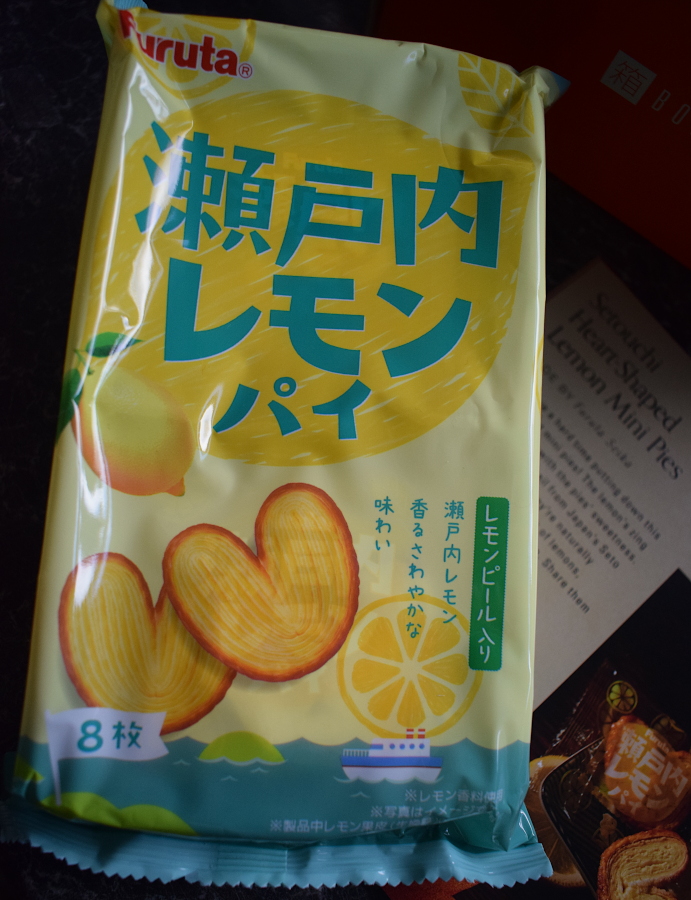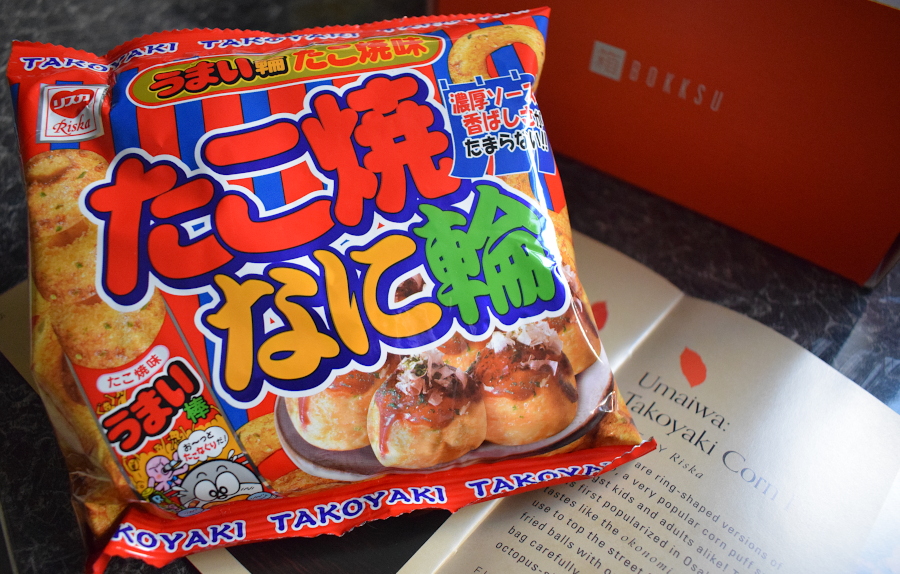 Umaiwa: Takoyaki Corn Puff – The third and final savory snack of this box, two large (20 grams each) bags of ring and octopus shaped puffed corn snacks. These were very light and crispy, with a satisfying sweet, savory okinomi sauce and seafood flavour. Very easy to eat the whole thing without noticing, dangerously tasty. The cute, colourful packaging was nice too. The map shows these are from Ibaraki.
Mini Awa Okoshi – The final set of many tiny individually wrapped snacks – three individually wrapped puffed rice snacks with no weight on the pack. They were very light but also very sugar shatteringly crunchy from the sugar the puffed rice and black sesame seeds are wrapped in. Sweet and satisfying, I really liked the stem ginger/raw grated ginger flavour – it's very different from a simple ground ginger and is a real punchy flavour for a packaged shelf item, it's still really fresh tasting. My favourite of the three tiny snack pack items! The map shows these are from Nara.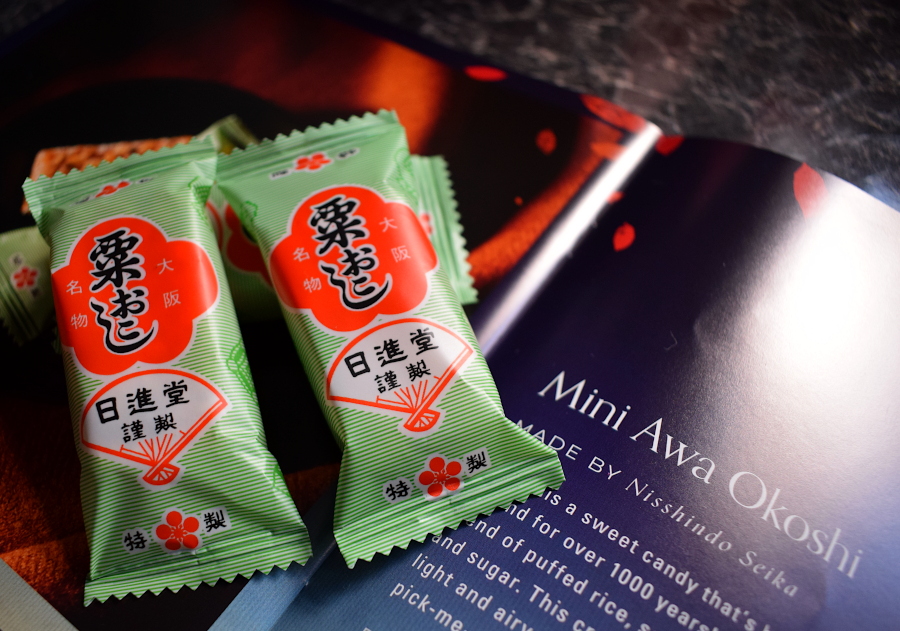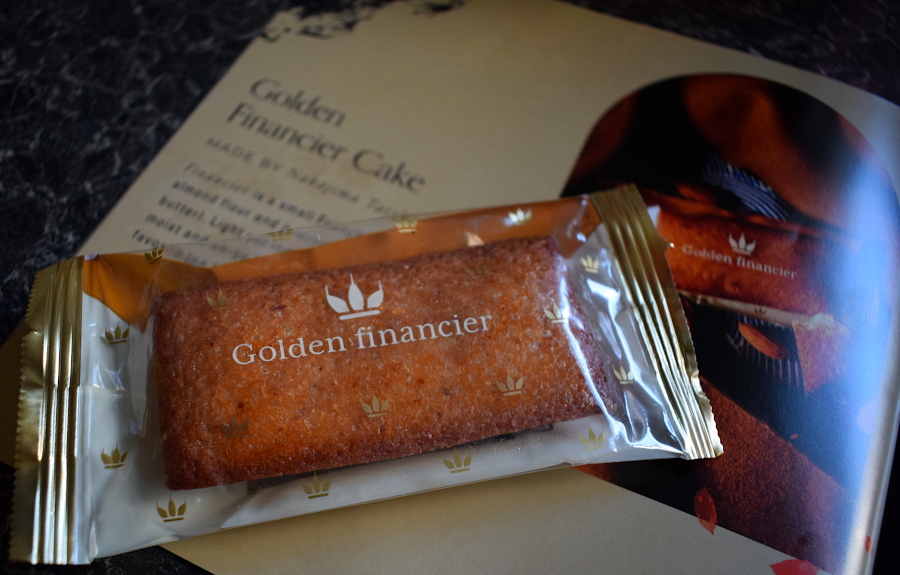 Golden financier – Like the previous Bokksu, this was a single wrapped cake slice with no weight printed on the pack, but about the same size as most of the single serve treats, like a mid-sized cookie. It was a moist and yummy cake, with a simple nutty and buttery flavour. Very straight forward and enjoyable. The map showed this item was from Osaka.
Uji Matcha Cappuccino – And finally the box ended with a tea, this time a single 12 gram sachet of instant matcha cappuccino. I feel like it's going to be a running theme now with Bokksu to have green teas that make me – not much of a green tea enthusiast – enjoy them. Very frothy and pre sweetened – like many instant sachet style drinks – but with a lovely sweet, savory green tea flavour. I wish there had been more than one satchet! The map shows this item was from Kanagawa.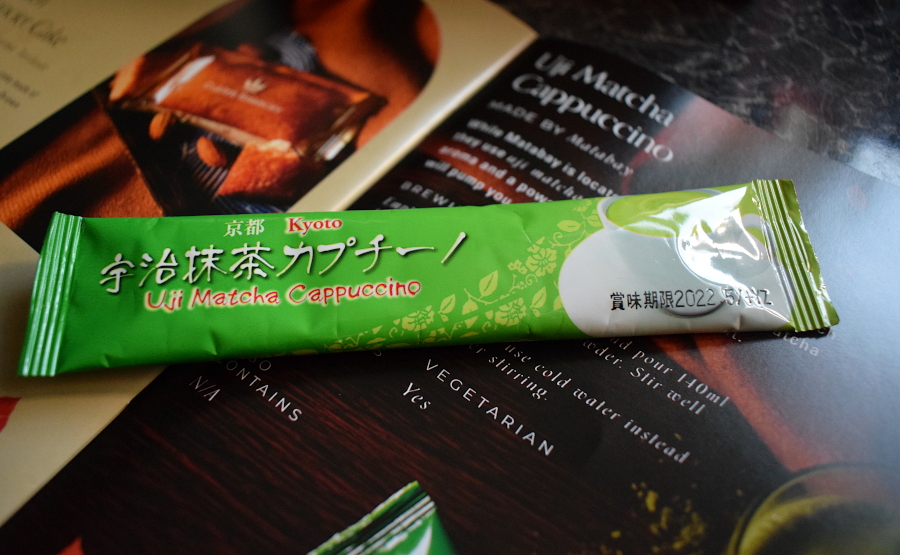 So there were 22 items in this Bokksu, with one of them being a large multipack admittedly, so count that as you will. With only three items being savoury and one drink this box really focused on the sweet side of Autumn, but then I think a lot of people love and crave sweet snacks at this time of year, so who can blame them? I did think there was still a lovely variety among the sweet snacks with things that I've never had before, and some items were are clearly Bokksu classics and favourites. I also really like that you get multiples of most items, making it easier to share them or just portion them out and make them last – it's nice to get to try things more than once! My November box actually just arrived yesterday here – a little earlier than this box managed to arrive the previous month but I have also just been a little slow to get this review up! I really loved this box, it fit the season and I enjoyed every snack. Until next time!