For my 32nd birthday, Peter of Andsobegins gifted me a three month Bokksu subscription since I've always been a little curious about it, and I do enjoy a nice subscription box! For reference, I have previously had a TokyoTreat subscription, and about three years of a GlossyBox subscription.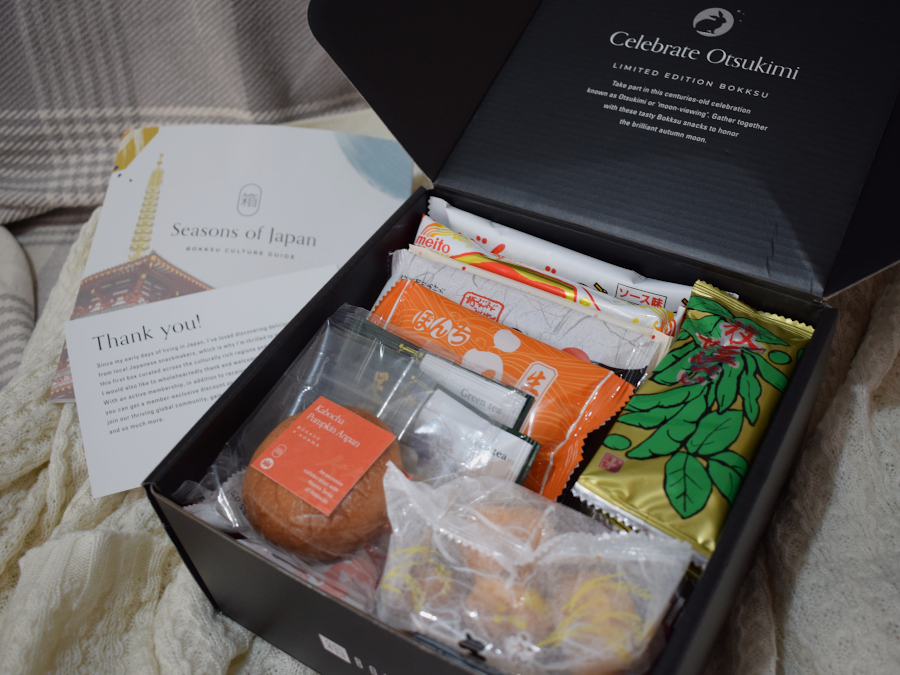 Three months seems like a really nice place to start since I'll get to try the very first box, which is always the 'Seasons of Japan' selection everyone gets to try, and then I'll get to see what a few normal seasonal boxes are like over September and October. All boxes come with a booklet covering the theme, each item (including allergens) and has a map so you can see where things are from. Bokksu really wants you to feel like you're exploring and experiencing Japan.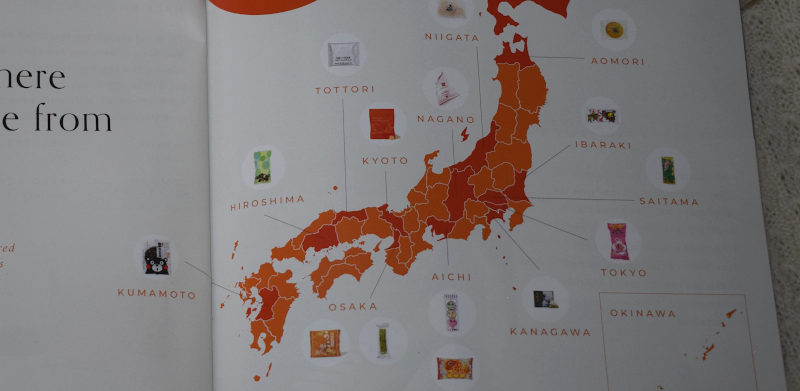 As the name suggests, the 'Seasons of Japan' starter box contains a selection of snacks for each season. Spring is full of sweet, pink floral flavours and even the one mostly savoury snack is still relatively sweet. Summer is almost entirely salty and savoury with a lot of citrus to enjoy. Autumn is back to being mostly sweet with warm caramel, apple and chocolate flavours that are practically universal to the season. Finally the box ends in Winter with some savoury, some sweet and even some green tea to try. I suppose as a sort of comparison, the actual box is smaller than say, a TokyoTreat box, but really is jam packed with items, while each season has four different items, you get multiple of a lot of these for a total of 22 items in the box.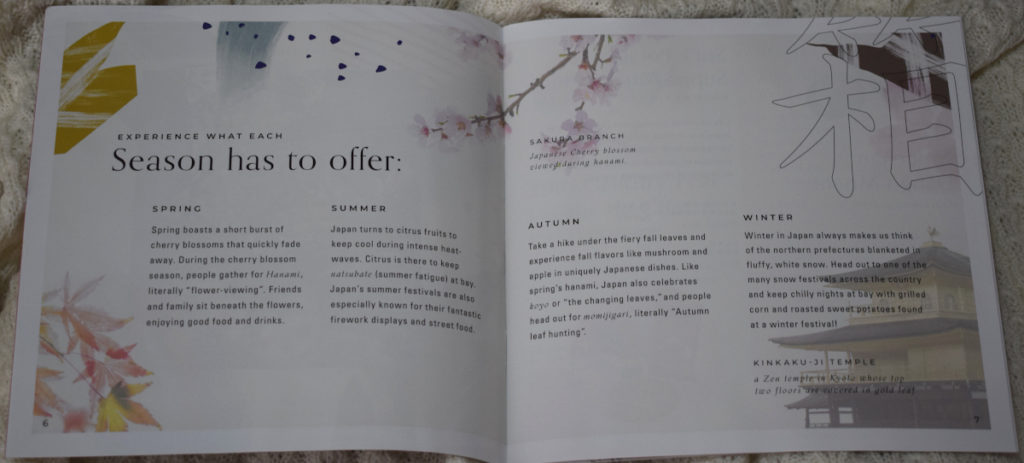 A lot of the value of this box as well again over something like TokyoTreat is that I do feel that not only does it have a more mature snack selection, but it's a more unique selection too! A lot of the snacks aren't things I can just grab from my local Asian Supermarket. So while you can certainly break the monetary value of the box down over the number of snacks, I suppose that feels like it's missing the point – you're paying for a new and interesting experience which is a lot of fun after a year and a half of…not having a lot of new experiences due to the pandemic.
Onto the Snacks!
The four snacks of Spring were Mocchan Dango Mochi (x2), Stick Potato: Suppa Mucho Plum (x1), 20th Century Pear Langue de Chat (x2) and finally White Strawberry (x2) for a snack total of seven.
Mocchan Dango Mochi – There are two packs, each containing a trio of pink, white and green coloured mochi – a rice cake made from glutinous rice and then dusted with sugar. These were not flavoured at all – it's all about that soft, pillow-y mochi texture! Otherwise they're just a nice sweet treat. Each little pack has fun, simple and cute packaging and weighs 30 grams, ten for each mochi. The map shows these are from Aichi.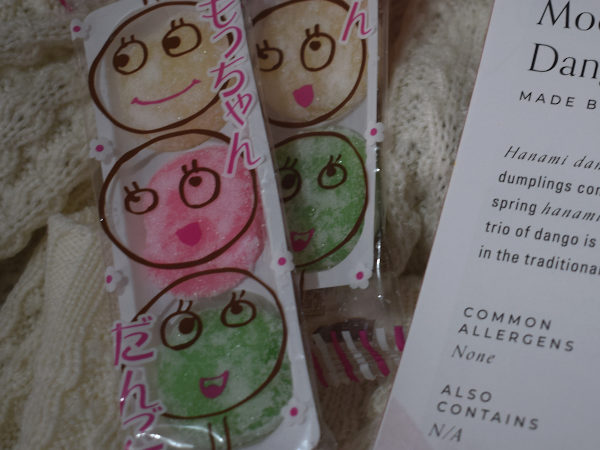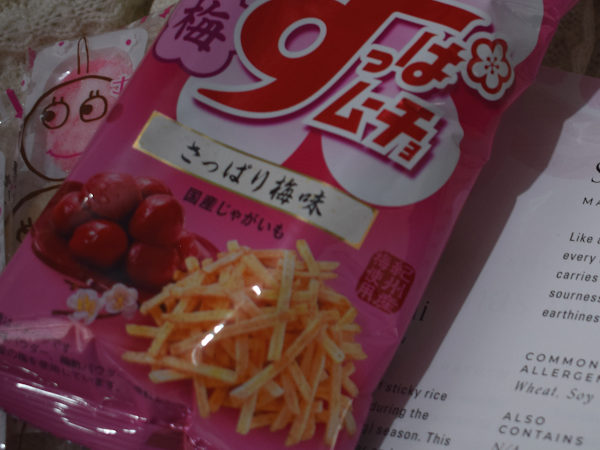 Stick Potato: Suppa Mucho Plum – This is a single large snack pack, weighing 40 grams, of thin fry shaped crisps or potato chips. They're very small and thin chips, much thinner than any UK chip shaped crisps. These had such a very cool, interesting flavour – they manage to be savoury and salty and sweet and sour all at once, just entirely delicious and unique! The packaging is cute and pink and the flavours are citrus and floral. The map shows these are from Tokyo.
20th Century Pear Langue de Chat – You get two packs of single individually wrapped sandwich biscuits. Each sandwich is two super thin slightly crisp biscuits around a cream filling. The whole thing feels very grown up and classy, with a nice pear and white chocolate flavour, and an extremely subtle hint of cheese flavour and scent. The map shows these are from Tottori.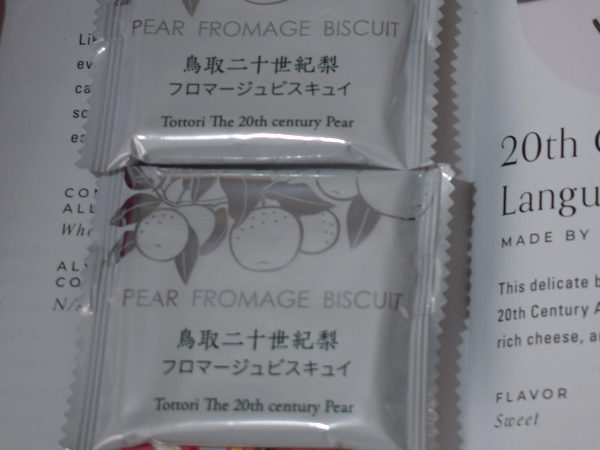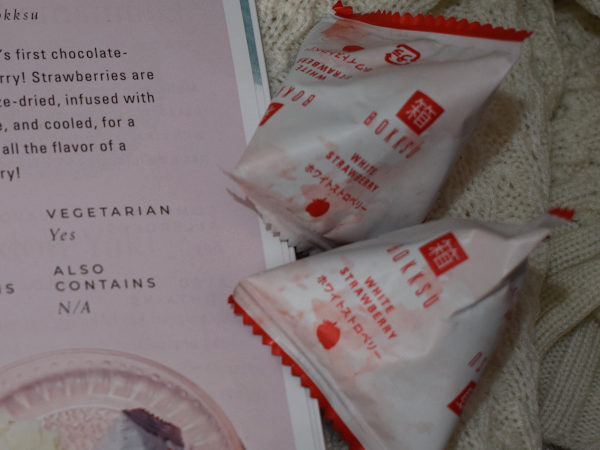 White Strawberry – These are a made just for Bokksu item and are just amazing. There are two packs of individually wrapped white chocolate infused strawberries. The strawberries are normal sized, with no weight on the packet. It is a very 'must try for yourself' experience – it's like each strawberry has been freeze dried and then all the space that contained water has absorbed white chocolate instead. The strawberry isn't chocolate coated – it IS the chocolate. I could eat 50 easily. Extremely dangerous. The map shows these are from Nagano.
The four Summer snacks were Edamame Senbei (x2), Seaweed Tempura: Setouchi Sudachi (x1), Yuzu Sake Candy (x1), and Dondon Yaki (x2) for 6 snacks in total.
Edamame Senbei – There are two packs of a single large cloud and/or pea pod shaped cracker, with no weight on the packet. These crackers are puffed with a small empty pocket in the middle, very crunchy and satisfying. Each cracker has large edamame bits baked in and the whole thing is coated in an addictive soybean powder – very unassuming looking but actually delicious. Very savoury, salty and a little sweet. The map shows these are from Saitama.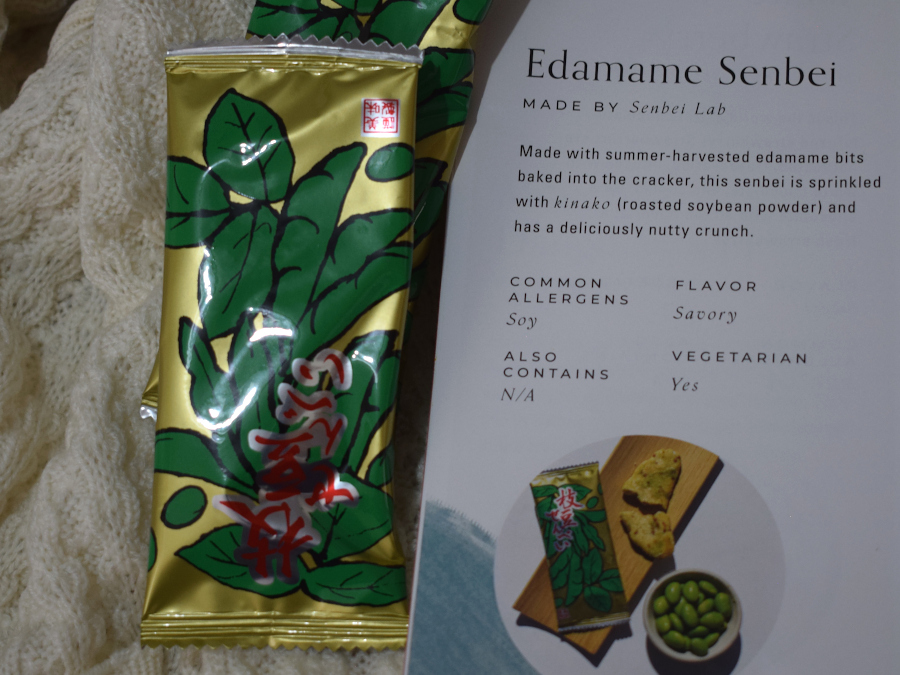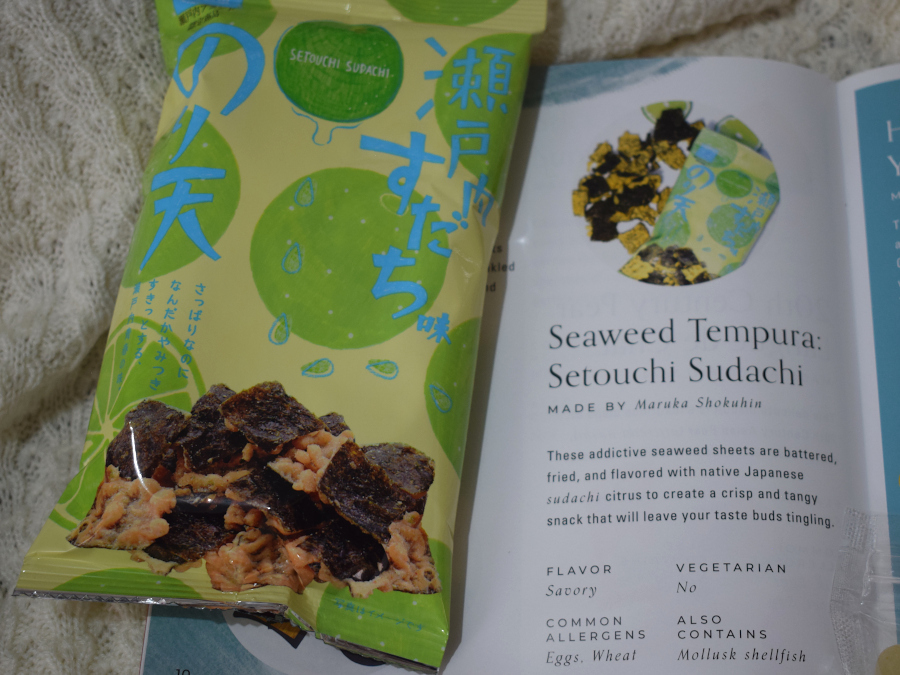 Seaweed Tempura: Setouchi Sudachi – A single large snack pack, weighing 100 grams, of tempura battered and fried seaweed squares. These are very deliciously seaweed-y, briny, salty, crunchy goodness. I could easily eat my own body weight in these things. The map shows these are from Hiroshima.
Handmade Yuzu Sake Candy – This is a small resealable pack of hard sugar candy flavoured with Yuzu and Sake. The total weight is 30 grams and the bag I received contained seven candies. They are a very subtle and enjoyable hard candy, with a mild citrus and pear like flavour if you have no frame of reference for Yuzu or Sake. The map shows these are from Kyoto.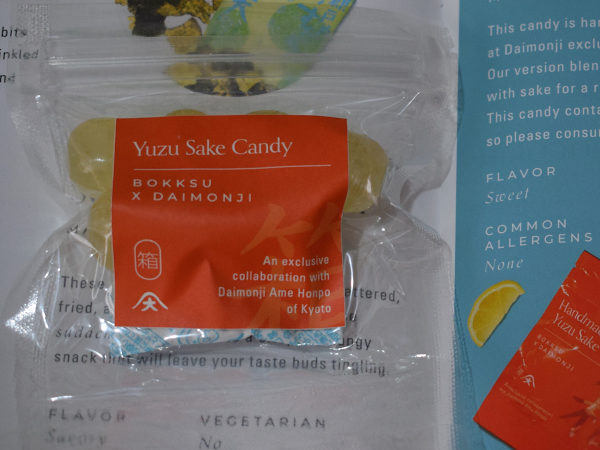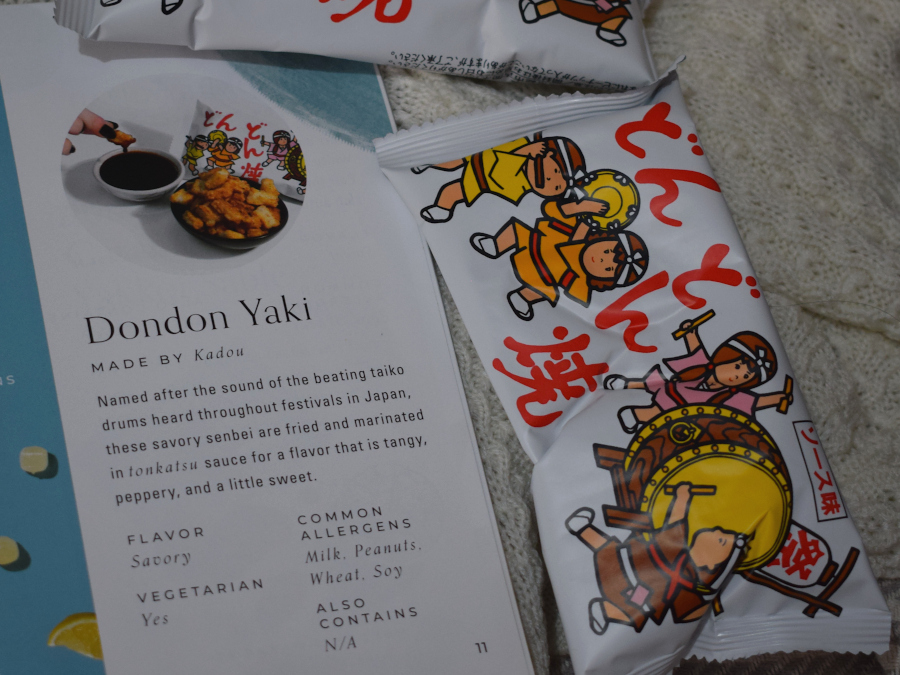 Dondon Yaki – Summer wraps up with two small 12 gram each packets of fried puffed snacks. The art on the packet is super cute. This snack has the same irresistible savory, sweet and salty combination as many of the other snacks included in Bokksu that makes them so very dangerous – it's easy to eat all of it before you know it. I'm not sure I'd describe the teriyaki flavour as that strong but they were still a delight. The map shows these are from Ibaraki.
Autumn's snacks are Kobocha Pumpkin Anpan (1x), Matcha Chocolate Stick Cake (1x), Black Sesame Taiko Kumamon Design (x1), and Aomori Apple Caramel Sable (x1) for the smallest snack season total of four.
Kabocha Pumpkin Anpan – A single small – with no weight given, but it's about small cookie sized – bread/cake pastry filled with white bean paste and pumpkin. It was very tasty, and autumnal, while not too sweet. and just a nice simple comforting snack all round. The map shows these are from Hokkaido.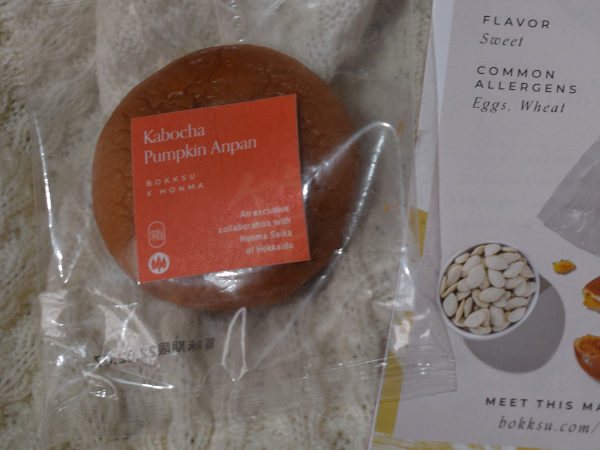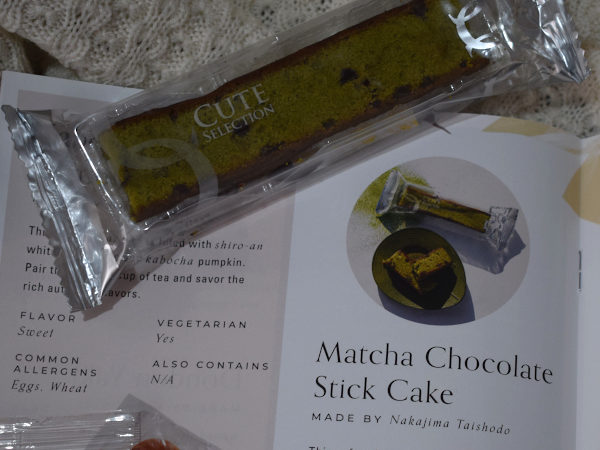 Matcha Chocolate Stick Cake – Another single wrapped cake slice, this time it's a small finger sized slice of matcha green tea and chocolate cake. It was surprisingly soft and moist for something sealed and shipped around the world. The matcha favour is more subtle than the chocolate but is still definitely there, I feel like I get it mostly in the after taste when the chocolate flavour has faded. Otherwise it was very chocolate-y and also not super sweet. The map shows these are from Osaka.
Black Sesame Taiko Kumamon Design – A single pack weighing 25 grams of pressed seed and nut disc. The most savoury snack this season but it does still have some sweetness. It's like a sesame seed rice cake – with a very nutty, mildly bitter savoury flavour and a little sweetness from the sugar to hold it together. Very interesting as a not sweet, sweet treat, and the packaging was super cute. The map shows these are from Kumamoto.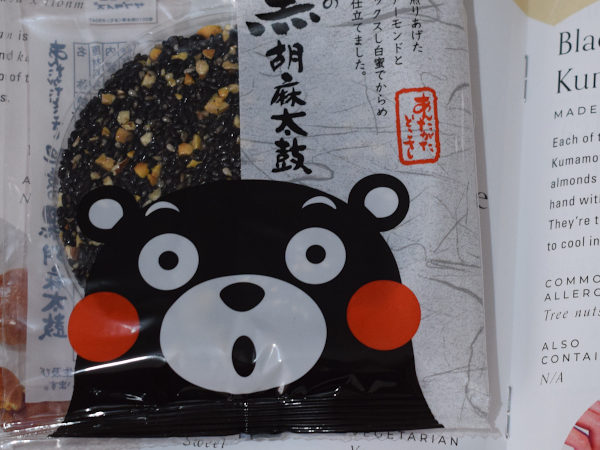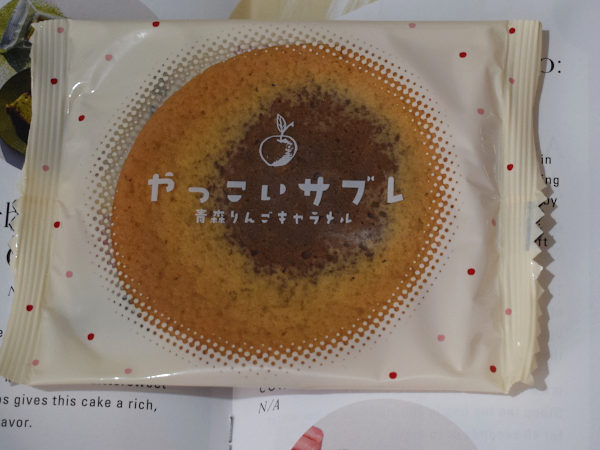 Aomori Apple Caramel Sable – A single 100 gram wrapped toffee apple cookie like biscuit. It has a soft uniform texture with a slightly squidgy centre that is a darker toffee colour. The whole biscuit had a subtle apple flavour, backed up by toffee/caramel – a very lovely comforting autumnal experience. The map shows these are from Aomori.
And finally Winter contained Funwari Meijin Mochi Puffs: Kinako (x1), Ashigara Green Tea Aranami Kurofuji (x2), Puku Puku Tai: Chocolate (x1), and Uni Rice Cracker (x1) for a snack total of five.
Funwari Meijin Mochi Puffs: Kinako – A single large bag of sort of dehydrated mochi? Like a lot of things in this box, this snack is a strange and interesting new experience. They are soft puff balls that seem a little crisp at first but basically dissolve and disintegrate as soon as they come into contact with your mouth/saliva. Subtly sweet, and with a heavy, heavy coating of roasted soybean powder that gives them an extra nutty and savoury dimension. The map shows these are from Niigata.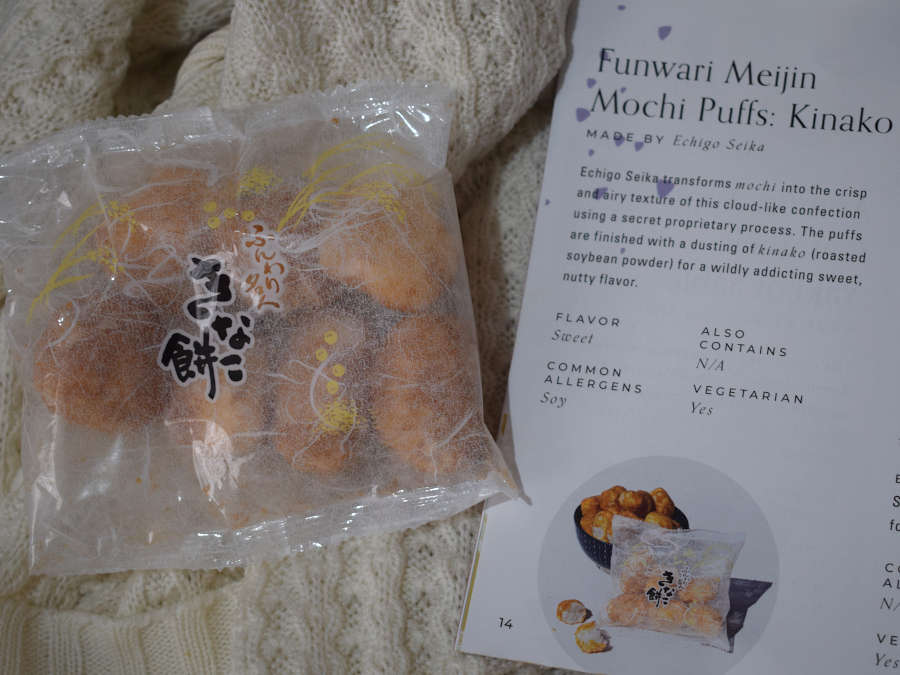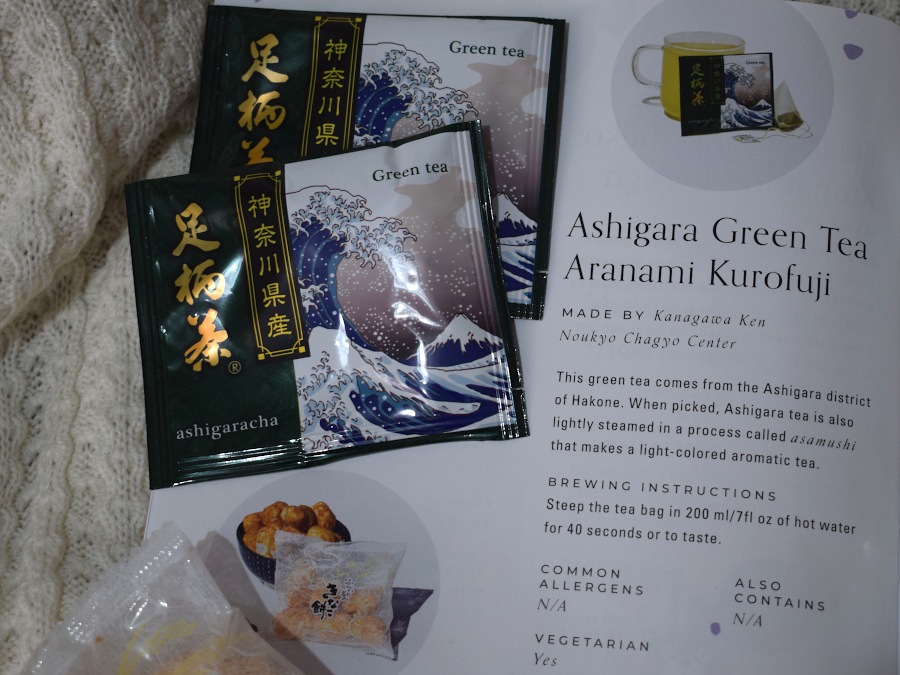 Ashigara Green Tea Aranami Kurofuji – Two individually wrapped pyramid style green tea bags with a brew time of 40 seconds up to personal preference. As a not massive fan of green tea, I actually quite enjoyed this tea. The flavour is pleasant, light and kind of savoury but in a mild way. The brewed tea is a very pretty vibrant green and was wholly enjoyable to drink. The map shows these are from Kanagawa.
Puku Puku Tai: Chocolate – A single wrapped chocolate wafer in the shape of a red snapper weighing 16.5 grams. It smells deliciously chocolate-y as soon as you open the packet. While the leaflet describes it as airy chocolate mousse, mine had sadly been smushed flat in shipping so it was just a thin layer of chocolate more like a chocolate bar than a mousse. It had a lovely chocolate flavour with the nice contrasting texture of the wafer on either side. Like a lot of Japanese confections it isn't actually super sweet, but this is to its credit. The packaging is super cute with striking orange, white and gold colours. The map shows these are from Aichi.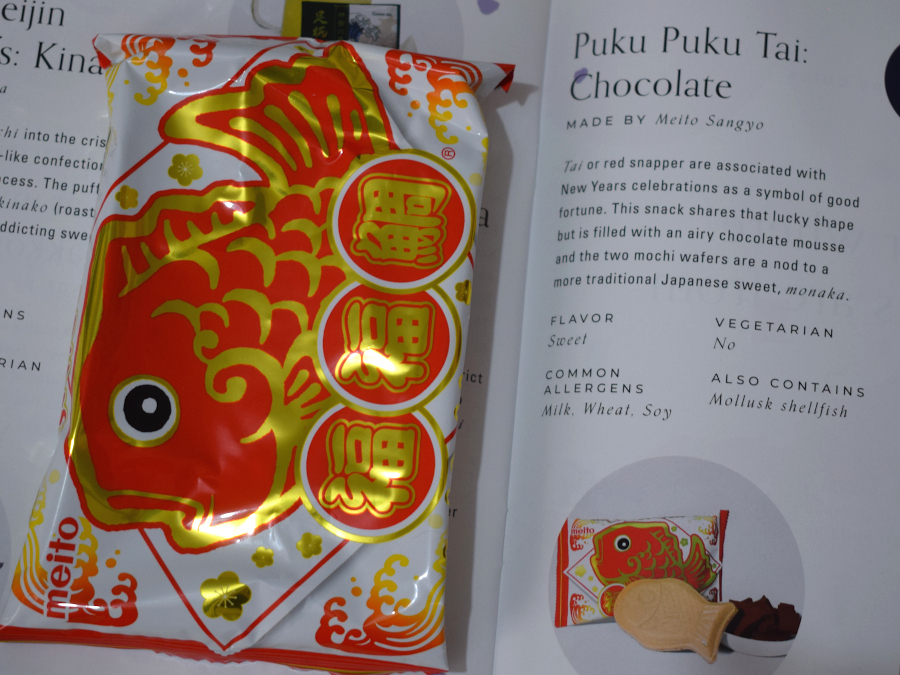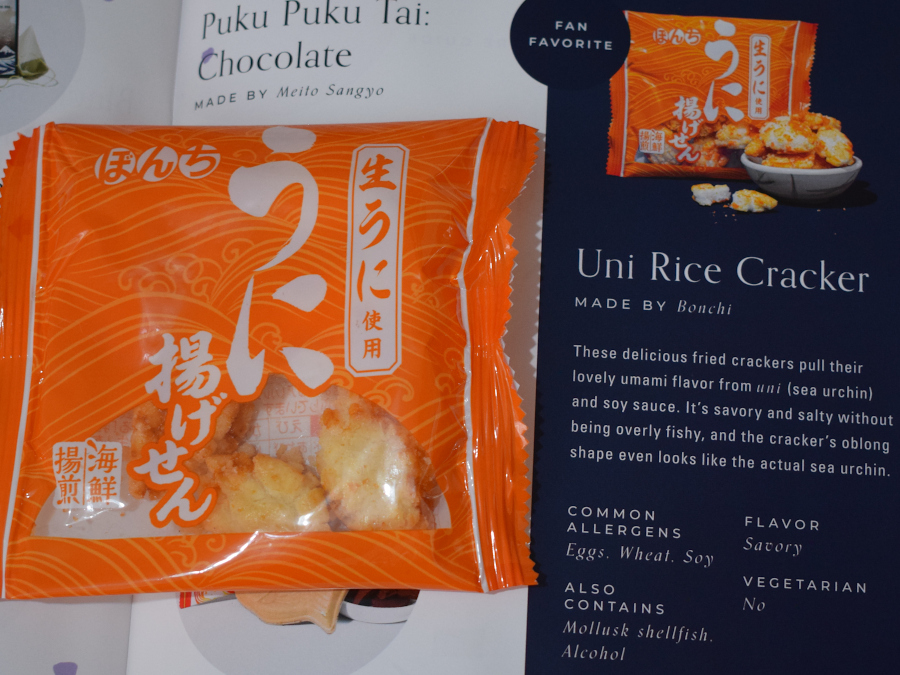 Uni Rice Cracker – And finally, a single large packet of savoury rice crackers. There were about eight or so large round crackers meant to evoke a sea urchin. Flavour wise they're salty, savoury and mildly fishy/seafoody. Overall a light and simple snack. The map shows these are from Osaka.
A few words on Cost/Price
Bokksu comes in a variety of price points, like a lot of subscription services that all depend on how much money you can put up right away. If you can pay up front each box only costs $39.99 – this is £28.90 per box at time of writing – but you have to be able to pay the full twelve month $479.40 (£346.44) sum up front to get that per box price. There is a six month option of $42.95 (£31.04) per box which is $257.70 (£186.23) up front. There is a three month option of $44.95 (£32.48) per box which is $134.85 (£97.45) up front. These two options could be the most popular, as they seem like fairly reasonable gifts for close loved ones. And finally, you can pay $49.95 (£36.10) rolling each month if you like the month to month flexibility. I can absolutely see saving $10 or about £7.20 per box being really worth it if you really liked the service or were sure the person you were getting really liked the service. You're saving £86.40 a year, which is pretty close to the cost of a three month subscription, and definitely covers a free box a year even just using the full monthly cost. This makes it pretty comparable to other subscription service savings for getting a whole year.
The other important thing to note cost wise against Bokksu's main competition TokyoTreat is that during the pandemic they removed the free shipping option for most and then I think all countries, meaning that while their box on face value is cheaper on every tier – their per month rolling is $35 (£25.29) and a whole year is $378 (£273.16) up front, that doesn't include shipping, which is either $10.50 (£7.59) or $12.50 (£9.03) a month extra, every month. You can find the shipping information on ( Important! Major Shipping Method Updates!).
For me in the UK the shipping is $12.50 meaning really the rolling box price is $47.50 (£34.32) making them pretty comparable in price. I don't know how fair it is to judge TokyoTreat for their shipping policy, I do assume they're a bigger company than Bokksu so maybe they should be able to absorb that extra cost themselves but who knows. Bokksu has no hidden extra shipping cost that displays after you sign in – you CAN pay for extra insurance, and like TokyoTreat used to do, this extra cost is entirely optional. I didn't pay it, and got my box fine.
Final thoughts for now
I really enjoyed this first month of Bokksu, I do think you get a more mature premium snack experience with snacks I couldn't really access outside of just…being in Japan. Whatever your feelings on the cost, it is a new and interesting experience, I loved everything in the box. I liked that a lot of the sweet snacks were not overly sweet, and the interesting range in products. It also has that greyer area in terms of value in that as this was a gift, I don't think I can make a fair or fairer call on is it good value. I do think gifts can be nice in that it's something you wouldn't get yourself or feel like you could justify getting yourself. If you wanted a cheaper monthly treat in the UK there are so many options out there, it all really depends on your budget, and what you want.
I am definitely looking forward to the next box!